Best warming foods
With colder weather on the way, you may be looking for warming foods to stave off that winter chill. Why not try buckwheat? It's an excellent winter food because it aids circulation and is warming to the body.
Basic Kasha
Buckwheat is a hearty and warming grain, making it ideal for damp, cold days. Never rinse buckwheat because it will become sticky.
1 1/2 cups whole buckwheat groats
3 cups boiling water or vegetable stock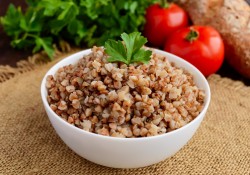 Warming Buckwheat Full of Health Benefits
This is a favourite grain of mine in the winter. It is very warming, highly nourishing, energizing and tasty food that can be eaten instead of rice or the usual porridge.
Buckwheat is a warming food.
It is classified by macrobiotics as a yang food. It is great for eating in the cold winter months.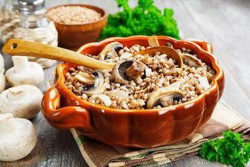 Buckwheat, one of the world's healthiest foods
Good for your Heart and Arteries
Buckwheat is traditionally known as a warming food, probably because of its positive effects on blood vessels.
It is rich in antioxidant flavonoids, including rutin and quercetin, which work with vitamin C.

Flavonoids also help to prevent excessive clotting while helping to maintain healthy blood vessels and blood flow.

Buckwheat also contains a protein that binds tightly to cholesterol.

It is also rich in magnesium, which relaxes blood vessels, aiding healthy blood pressure and circulation.
Other Buckwheat Benefits
The benefits to your heart and arteries are only the beginning:
Buckwheat contains a beneficial fibre called resistant starch, which helps you to feel satisfied with less food, manage blood sugar levels, as well as having positive effects on your eyes and intestines.

Lignans in buckwheat may also help to protect against breast and other hormone-dependent cancers.

It also has positive effects on the liver and is thought to help prevent gallstones.

A powerhouse of vitamins and minerals, buckwheat is rich in iron, copper, zinc, manganese and B vitamins,

Buckwheat is rich in high-quality protein, about 18%. This compares favourably with rice (7%), soya (13%) and salmon (19-23%)

It also contains healthy omega-3 fats.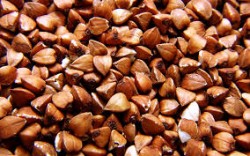 Buy Top Quality Roasted Buckwheat Now